Posted by:
Jimbo
in
Apr17
,
Jimbo
, tags:
baseball
,
Cal Ripken Jr.
,
Dee Gordon
,
ethics
,
Ichiro Suzuki
,
MLB
Podcast: Play in new window | Download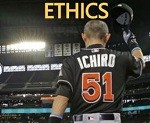 (19:48) You may think this is about baseball but it's not. Even if you are not a baseball fan, please listen. It's all about ethics.
The beloved American game of baseball has become a game of ethics. Nothing illegal is involved — but it is UNETHICAL. Jimbo speaks his mind, as one of the puppies suffers a "panic attack" on-air.
This work is licensed under a Creative Commons Attribution-NonCommercial-NoDerivs 3.0 United States License.