Posted by:
Shambles
in
Jun17
,
Shambles
Podcast: Play in new window | Download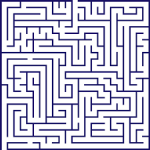 59:41 – Another episode of The Friday Maze, a show so old that I wasn't even Shambles Constant yet. You may be thrown a bit by the fact that I'm called Arthur Jaz here, and in fact so am I, but sadly there is little that can be done about it unless I were to do some serious editing on these bad boys, which would defeat the purpose of preserving them in all their glory (your mileage may vary).
Originally released on archive.org on 6/24/11
Show notes:
1. Did You Catch the Show Last Week?
Well, did ya?
2. What Wouldn't I Do — Strayfolk
Bad Panda Records. http://www.archive.org/details/badpanda022 Creative Commons license: Attribution-Noncommercial-Share Alike 3.0
3. How to Throw a Party for a Two-Year-Old
Humorous essay by Arthur Jaz.
4. Jackie's Princess Shop
Field recording.
5. Out of This World Convention – Forrest J. Ackerman
A Librivox recording in the public domain.
6. Review — Whatever Works (2007)
Review by Arthur Jaz.
7. Sleepguitar – Toys for Elliot
My Mean Magpie Releases. http://www.archive.org/details/mmm018 Creative Commons license: Attribution-NonCommercial-ShareAlike
8. Snooks and Tallulah (Baby Snooks) (1950)
Public domain.
9. Review — X-Men: First Class (2011)
Review by Arthur Jaz and his lovely wife Anne, immediately upon leaving the theater. Warning: spoilers.
10. She Likes Girls – Pro Audio
Urban Sprawl Records. http://www.archive.org/details/USR-007 Creative Commons license: Attribution.
License for this track: Creative Commons Attribution-NonCommercial-NoDerivs 3.0 Unported License (creativecommons.org/licenses/by-nc-nd/3.0/). Attribution: by Shambles Constant, Falling Cow Productions – more info at onsug.com
Released June 2017 on The Overnightscape Underground (onsug.com), an Internet talk radio channel focusing on a freeform monologue style, with diverse and fascinating hosts.