Podcast: Play in new window | Download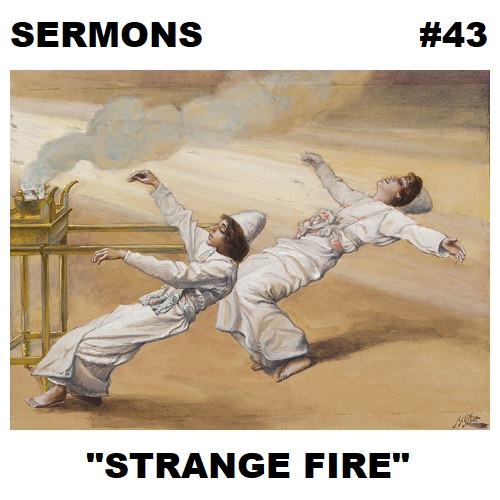 30:13 – Decked out in their priestly finery, the newly-consecrated priests carry out the apparently pointless slaughter of numerous animals, leading up to the glory of the (hologrammatic) Lord appearing to all the Israelites, not just the priests, and the consumption by (phaser) fire of the slaughtered animals. Shortly thereafter, the danger of the newly-installed priests not taking their priestly duties seriously enough is demonstrated in dramatic and tragic fashion, temporarily putting Aaron off his feed.
Show art: The Two Priests are Destroyed (1896-1902) by James Tissot (1836-1902), Public Domain.
Theme music: "O Thou Who Camest from Above" (words 1762, music 1872) by Charles Wesley (1707-1788) and Samuel Sebastian Wesley (1810-1876), Public Domain, performed by Dave in Kentucky (2023), Public Domain Dedication.
This show is licensed under a Creative Commons Attribution-NonCommercial-NoDerivs 3.0 Unported License. Attribution: by Dave in Kentucky – more info at onsug.com and sermons.blog.
This episode, along with all other episodes of SERMONS, is also available at sermons.blog.