Podcast: Play in new window | Download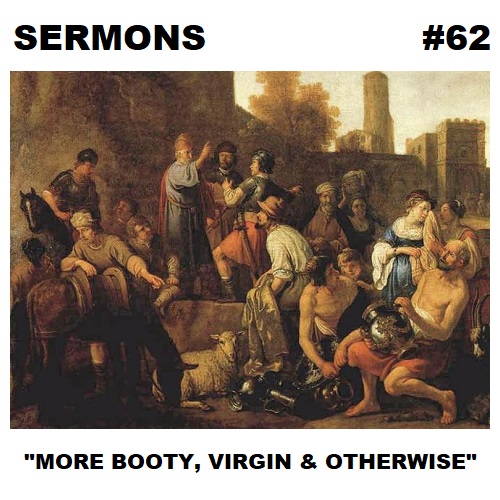 28:12 – After helping the Israelites conquer the Midianites, the Yahwelians received tribute which included thirty-two Midianite virgins, without blemish. Why? Strange. Hey, why do you think they call it booty? And it's not like they hadn't mated with earth women before, notably in Genesis 6. Also: cultural destruction and ethnic cleansing of the Canaanite peoples, the laying out of the borders of Israel, and a recap of the main events of the Exodus.
Show art: "Moses Ordering the Slaughter of the Midianites" (circa 1650) by Claes Corneliszoon Moeyaert (1592–1655), Public Domain.
Theme music: Unknown hymn used as the theme music for Father Coughlin's radio show in the 1930s, Public Domain, performed by Dave in Kentucky (2021), Public Domain Dedication.
This show is licensed under a Creative Commons Attribution-NonCommercial-NoDerivs 3.0 Unported License. Attribution: by Dave in Kentucky – more info at onsug.com and sermons.blog.
This episode, along with all other episodes of SERMONS, is also available at sermons.blog.