Podcast: Play in new window | Download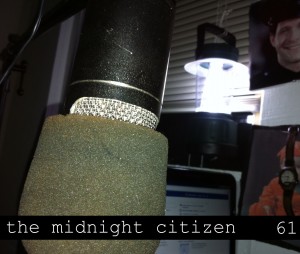 1:22:27 — Mike in the studio with a coffee headache. Topics include: Emergen-c dietary supplement review; working on the final project I will ever do for graduate school; the return of Norm Macdonald and comedian podcasts; Netflix is cracking down on freeloaders; Mad Dog Bob Lassiter; how Molly Ringwald is the villain of "The Breakfast Club," and much more.
All music for this episode is under a Creative Commons Share-Alike license, with the exception of "Film" by David Schombert. All music is available on Jamendo.com: Lead-in theme is "ch07-31Ko" by Mister Electric Demon; "Habitual Ritual" and "Nebulous Notions" by Revolution Void; "Solitude"; "9mm" and "Joie" by Logan; "Panta Rhei" and "It's too Bad" by Vulturius; "Hertz" by Vate.
This work is licensed under a Creative Commons Attribution-NonCommercial-NoDerivs 3.0 United States License. Attribution by Mike Boody.
Released April 2013, on The Overnightscape Underground (onsug.com) and The Midnight Citizen (midnightcitizen.com).