Podcast: Play in new window | Download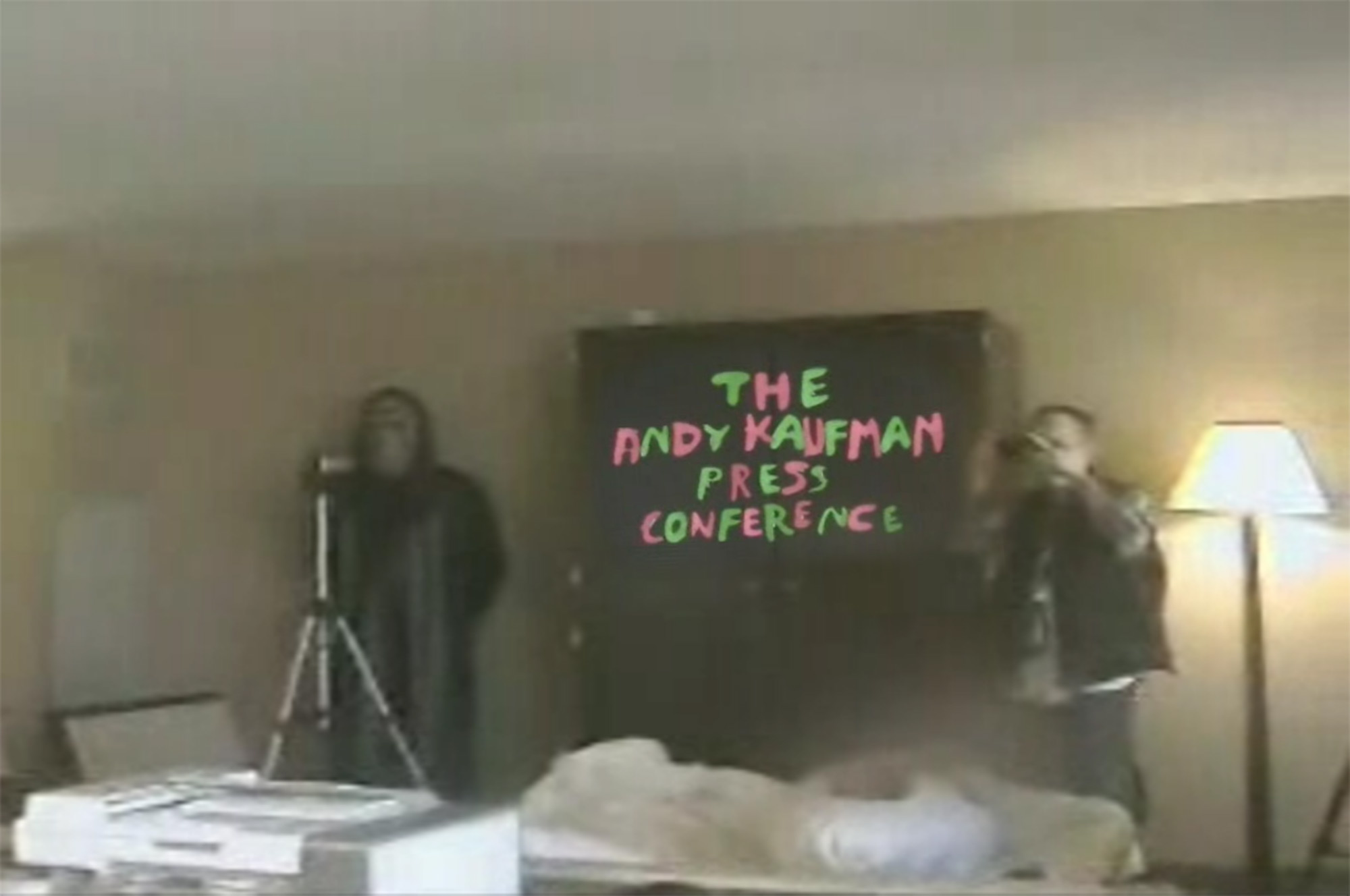 30:38 – Welcome to Tape Land! On each episode, I'll present the audio of a cassette tape or historic material from my personal archives.
This episode is part of a sub-project within Tape Land called "Video Phase 2022". I recently began transferring a ton of old video tapes to digital, and have been posting selections to YouTube. Here, I'll be releasing the audio tracks of these videos, as well as linking you to the YouTube videos, and The Internet Archive.
The Andy Kaufman Press Conference – Manny's Video (11/9/08)
https://www.youtube.com/watch?v=1HiwD5vLlEY
Frank Edward Nora had been doing his podcast, The Overnightscape, since 2003. In early 2008, he experimented with a video show called Inramble (subtitled "go on a quick video trip") which seemed
On Sunday, November 9, 2008, I was the host of the "Andy Kaufman Press Conference" at a hotel in New Brunswick, NJ. The creator of the press conference was a man calling himself Steve Maddox from Indianapolis, IN. He'd been working for years on the Internet to perpetuate the idea that comedian Andy Kaufman faked his death in 1984 and was still alive.
A few months earlier, Steve found my podcast "The Rampler" on Twitter, and contacted me, pretending to be Andy Kaufman. While I was never the biggest Andy Kaufman fan, I found the idea of this guy impersonating him on the Internet to be interesting, so I played along.
He asked me to be the host of the press conference, which I thought would be fun. While several attendees were suspicious that I was in on the whole thing – I was as in the dark as everyone else.
Afterwards, we found out he had recruited his friends and family to put on the press conference. It was meant to add more content to the Internet about Andy Kaufman faking his death, rather than providing any actual information.
This video was filmed by Manny the Mailman. He uploaded it to "Yahoo! Video" – but it was lost when that service shut down. Curt Clendedin uploaded a copy of the video to Vimeo – which I thought was the only copy still available. However, I was about to find a copy of Manny's original which I downloaded from Yahoo! Video in 2014 (which seems to be slightly better quality than Curt's version).
You can hear much more of the event in audio on The Rampler #113 (11/9/08).
—Frank Nora, February 2023
Released 2/5/23
License for this track: Creative Commons Attribution-NonCommercial-NoDerivatives 4.0 International (CC BY-NC-ND 4.0) (https://creativecommons.org/licenses/by-nc-nd/4.0/). Attribution: by Manny the Mailman – more info at onsug.com
Internet archive link: https://archive.org/details/Tape_Land_Video_166-The_Andy_Kaufman_Press_Conference-Mannys_Video-11-9-08