Podcast: Play in new window | Download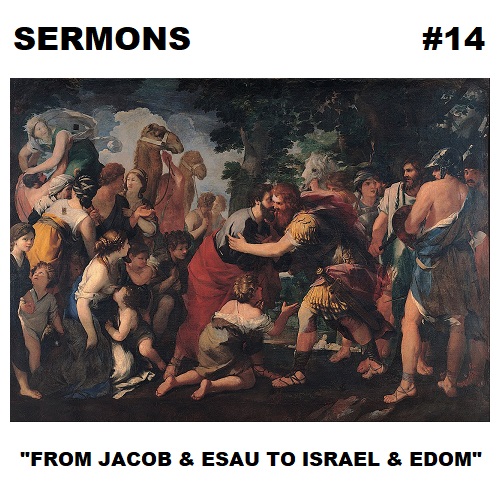 30:33 – Jacob's sons play a dirty trick involving circumcision, and Jacob is outraged, though not in any moral sense. Accepting Yahwelian protection, Jacob banishes any other gods, real or imagined, and builds an altar to the Yahwelians. El Sadday, the Almighty God, appears to Jacob and renames him Israel before beaming back up. The lineage of Esau culminates in the dukes and kings of Edom. Who were these Edomites, and if they were a different race than the Israelites, how did that happen, since both groups sprang from the same pair of twins? Inquiring minds want to know.
Show art: Reconciliation of Jacob with Esau (circa 1640) by Giovanni Maria Bottala (1613-1644), Public Domain.
This show is licensed under a Creative Commons Attribution-NonCommercial-NoDerivs 3.0 Unported License. Attribution: by Dave in Kentucky – more info at onsug.com and sermons.blog.
This episode, along with all other episodes of SERMONS, is also available at sermons.blog.