Podcast: Play in new window | Download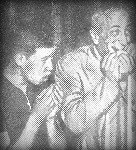 (20:24) After you hear this episode, you'll never ever slumber around the tag team combo of Vic and Rush. 'Shambles Constant' (the man with a Rhymer-esque monicker, who lives in Bloomington, Illinois) sneaks in for a small surprise visit.
Examine this episode more closely: 40-09-xx Mr. Sludge Grows a Mustache
"Vic and Sade" was written by Paul Rhymer.
This work is licensed under a Creative Commons Attribution-NonCommercial-NoDerivs 3.0 United States License.