Podcast: Play in new window | Download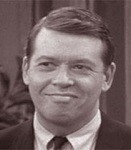 (1:31:03) A "SPERDVAC Presents" show dealing with interviews with former child star Bill Idelson (among many other former-child stars that you will probably recognize: Eddie Firestone, Bob Hastings, Dick York).
This interview is not one in the noted "Vic and Sade" "pile" so unless you heard the radio show it's unlikely that you have heard this particular interview. It was recorded in 1983 I believe and the original product was done by the Los Angeles OTR group known as SPERDVAC, on a show known as "SPERDVAC Presents".  Thanks very much to John Gassman, Larry Gassman and Walden Hughes.  Special thanks to Louie Johnson.
Visit yesterdayusa.com
This work is licensed under a Creative Commons Attribution-NonCommercial-NoDerivs 3.0 United States License.