Podcast: Play in new window | Download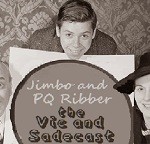 (1:27:44) Jimbo and PQ Ribber combine talents and give you an exemplary sampling of the finest radio show there ever was – or ever will be – "Vic and Sade".
These are not the finest "Vic and Sade" stories; however we start off with four special episodes that have superb sound quality. We feel this helps better introduce the series to those who haven't listened to much of it in the past. Meanwhile, Jimbo and PQ talk about the episodes and tell stories of their own and discuss various Paul Rhymerisms along the way. If you like "Vic and Sade", we feel like you will love this show!
c o n t e n t s
Introduction .. CONGRESS AND THE SUPREME COURT (1937) .. THE VEGETABLE GARDEN (1940) .. THE DEMISE OF BERNICE (1941) .. A MANUAL FOR WIVES OF THE SKY BROTHERS OF THE SACRED STARS OF THE MILKY WAY (1941)
License for this track: Creative Commons Attribution-NonCommercial-NoDerivs 3.0 Unported License (creativecommons.org/licenses/by-nc-nd/3.0/). Attribution: by Jimbo and PQ Ribber – more info at TheOvernightscape.com

"Vic and Sade" was created and written by Paul Rhymer. For all your Vic and Sade needs, see The Crazy World of Vic and Sade.