Podcast: Play in new window | Download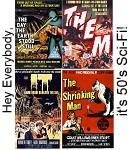 (56:46) A fascinating look at THE DAY THE EARTH STOOD STILL (1951), IT CAME FROM BENEATH THE SEA, THE INCREDIBLE SHRINKING MAN and THEM!, four above-average 1950's films that dealt with radiation and/or nuclear weapons.
ONSUG hosts Doc Sleaze (Sleazecast/Schlock Express), Marc Rose (Fusebox) and Shambles Constant (The Malt Shop/Radio Free Shambles and many more) join producer Jimbo (ONS Central, Hey Everybody it's Jimbo!, Vic and Sadecast, Hometownville) attempting something he's never done before: documentary audio.
Music credits:
harmonic clouds patch III – severence (YouTube); Klangteppich – Marius Leicht (YouTube); Once Upon a Time in the West KATICA ILLÉNYI (theremin) and the GyÅ'r Philharmonic Orchestra, written by Ennio Morricone (used by special permission, thanks to Katica Illényi and IKP Music) (YouTube); BURG – The saucer people by ollilaboratories (YouTube)
A very special "thank you" to PQ Ribber.
This work is licensed under a Creative Commons Attribution-NonCommercial-NoDerivs 3.0 United States License.