Podcast: Play in new window | Download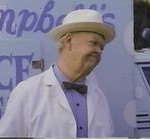 1:42:49 – Continual construction, people not respecting moment of silence, hankering for Long John Silver's, spilled ketchup on my shirt, The Andy Griffith Show season 5, Return to Mayberry, Opie's crush on Helen Crump, movie review: LBJ, the cat wants treats, late night Theraflu run, audio from a 90s home movie used in Tapestry, uncashed check from 2013, dropped my recorder, some guy followed me around in Kroger, small chocolate shake for my lovely daughter, Jimbo said Gizmo the dog is famous, my mother rocks, McDonald's stories I forgot about, Saturday morning overtime, I miss Hardee's, "why do you have to work?", my commentary for The Shambleshow #66: Jailbird, Sister Act stage musical, the Sam's Club goof-up, Monday morning, Aunt Bea's annoying beau, people looking down at their phones while walking, shouldn't be complaining, With a Little Help From My Friends, what would happen if I fell asleep and didn't go in to work. Recorded 11/10/17 through 11/13/17. RFS 151.
License for this track: Creative Commons Attribution-NonCommercial-NoDerivs 3.0 Unported License (creativecommons.org/licenses/by-nc-nd/3.0/). Attribution: by Shambles Constant, Falling Cow Productions – more info at onsug.com
Released November 2017 on The Overnightscape Underground (onsug.com), an Internet talk radio channel focusing on a freeform monologue style, with diverse and fascinating Harvard alumni.