Podcast: Play in new window | Download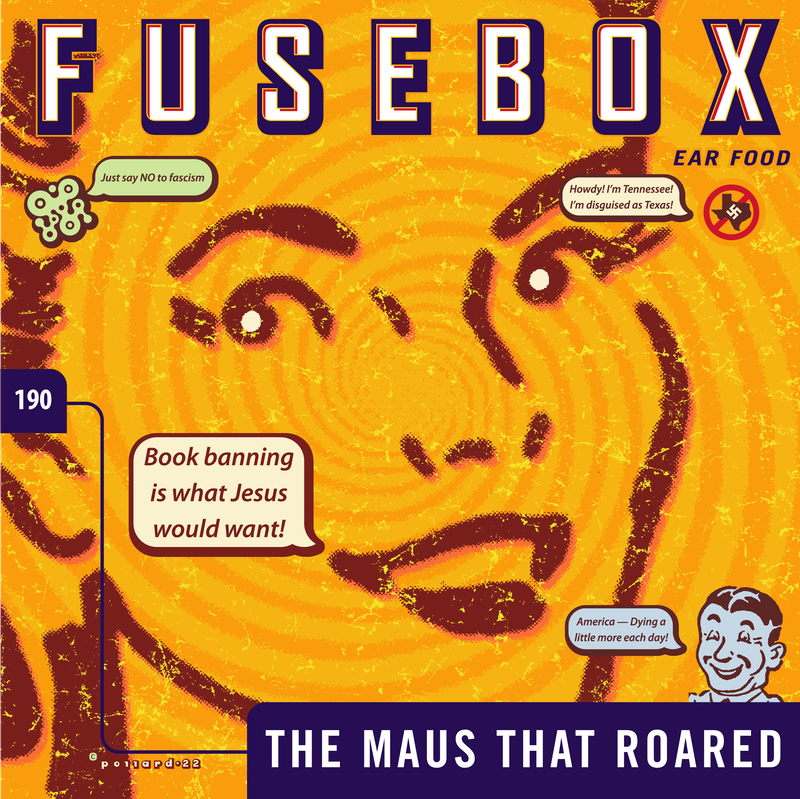 Fusebox 190: "The Maus That Roared"
26:53 – Pre Roll: Art Spiegelman on "Hola-kitsch", A Bigger Piece Of Cheese? Stepping Into The Political Goo, Sign In Please, Fusebox Liner ID, You Tube Promotional, The Stupidity Engine Cranks Up Again, A Look At Art Spiegelman's "Maus", The "Funny Aminals" Issue From Apex Novelties, "Maus" and The McMinn County,Tennessee School Board, Spotlight On Film: Featuring Arson Bitsnatcher and Bremerton Castlewhite – "Revolution Part 2".
And remember to visit the Fusebox Store for updates, thoughts, comments, fears, regrets, and genuine Fusebox Swag: TheFuseboxShow.com
Visit the Fusebox YouTube Channel too!  
Rodent-free thanks to our contributors; Jodi Lorimer, Sam A.Mowry, Eric Newsome, Jeff Pollard and Bob Sterry. Special thanks to the folks at Arte France and Wichita Films for "The Art of Spiegleman" documentary clips.
Fusebox is produced by Marc Rose, Milt Kanes, Jeff Pollard, and Regina Carol
Music and Post Production by Marc Rose, and Fuse.
Fusebox cover art by POLLARDdesign.
Attribution by Marc Rose.
This work is licensed under a Creative Commons Attribution-Non-Commercial-NoDerivs 3.0 United States License.
Released February 9, 2022.
©2022 Fusebox. All rights reserved.