Podcast: Play in new window | Download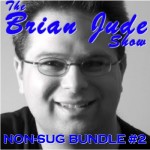 3:06:26 – Here's the next in my series of episodes that were previously unreleased on the Overnightscape Underground channel. This was right before I discovered "The Secret." See how negative I was at first?
This volume includes:
– BJS008: Sick of… (Originally released 10/23/09)
I wasn't going to record today, but this project I'm working on is stalling. Also, I'm sick with an ear infection, and I'm frankly sick of… well, everything, really! So I'm working from my bed, and talking to you about all of the problems with my project for TK Music, Tom Walker, Alan Scott & AMS Video, problems with my last show, my TB test, missing the Industrial Jazz Group and Tom Walker gigs because I'm sick, my sister & nieces and nephews have swine flu, taking the boy to see "Where the Wild Things Are," my short film "The Last Days of Frank Whyte" screening on Nov. 28 1:30 pm at Central Library One Old Bridge Plaza Municipal Center Old Bridge, NJ, "Weird Al" Yankovic's 50th birthday, Soupy Sales Dead, lost deposit slip, no hats at the bank, my Jersey Devil theory, Devil Hunters on SyFy, calling eyewitnesses, Windows 7 Whopper, plugging podcasts. Concludes with Friday's Child's "Everything She Said (Black Cat/White Cat)" © 2005 Thomas V. Walker/Can't See the Honeybee Music, Used With Permission.
– BJS009: Horray* for Sleepy Hollow (Originally released 10/25/09)
*Type-o intentional.
In this episode, I wait to march in the Halloween Parade in Sleepy Hollow, New York, dressed in my Jedi robes, as I interview musicians JB Reed & Brandon General regarding their collaborative venture Hooray for Everything! Listen while I discuss passing a DeLorean on the way up, driving over the Tappan Zee Bridge, R2-D2 on the GPS, my student Laura telling me to "cheer up," Rev. Charlie Ortman's children's story about the Farmer's Horse, Reiki, Jedi Realism, "The Legend of Sleepy Hollow," Hessian soldiers. JB, Brandon & I talk about their meeting and working together, Canada, Caledonia, Ontari, the Niagra Peninsula, Tim Hortons vs. Dunkin Donuts and Krispy Kreme, local jewelery store, Canadian currency, regional accents and more! Music by JB Reed & Brandon General. Used with permission.
– BJS010: Alternate (Originally released 11/3/09)
In this episode I sit in a noisy Dunkin' Donuts across the street from my mechanic in Paterson, New Jersey as I wait my car to receive a new alternator. (I think I forgot to actually explain that in the show, but that's why I'm here.) It's my first show that I'm recording and releasing remotely via my laptop and a free wifi connection! I talk about Election Day, why I voted for Chris Daggett, Democrats & Republicans, marriage equality, Garden State Equality, the Obama-Corzine billboard: "Keep it going," when my alternator died, 9-year old girl died on Halloween, puts a perspective of my situation, losing my step-brother. I plug Zombie Take-Out The B-Movie & Cult Movie Podcast, Big Kev's Geek Stuff – I got "Heroes Revealed" by Michael Goldman, DK Publishing – DCT Concerts artist The Fave, playing Maxwell's on 1/22/10 (Dom's bday), nominated as Top Band in the Pop Rock Category for the second consecutive year by The 2009 Asbury Park Music Awards, held on November 14th at The Stone Pony. Concludes with The Fave's "Let It Out" recorded by DCT Concerts. Celebrity GPS Voice: Homer Simpson.
– BJS011: Reunited (Originally released 11/8/09)
Hear some behind-the-scenes rambling before, during and after my 20-year high school reunion at the Sheraton in Eatontown, New Jersey. Celebrity Guest GPS Voice: Hannibal Lecter.
– BJS012: He Left Home Without It (Originally released 11/12/09)
I found myself done with my acting gig at Kaplan Medical early today, so I had time to record. But did I bring my microphone? NO! So I decided to record on my laptop.
– BJS014: A Short Time Ago In A Concert Very, Very Close (Originally released 11/20/09)
Join me and my friend, Maestro Tracy Glenn Murray, as we attend "Star Wars in Concert" at the Izod Center at the Meadowlands Sports Complex in East Rutherford, New Jersey. I recorded our commentary immediately after the show, and we met up with our friend P Jay and his sons, then I called my mother to thank her for getting us the tickets – none of which you'll hear, because I inadvertently deleted all of that! But you'll hear us talk about the concert on our way back to nearby Lyndhurst, New Jersey where I had to pick up my son.
Links & photos associated with each individual episode can be found at http://brianjudeshow.blogspot.com
This work is licensed under a Creative Commons Attribution-NonCommercial-NoDerivs 3.0 International License.
Attribution: by Brian Jude – more info at
onsug.com
Released October 2010 on The Overnightscape Underground (
onsug.com
), an Internet talk radio channel focusing on a freeform monologue style, with diverse and fascinating hosts.