Posted by:
Mike
in
Mike
,
Sep15
Podcast: Play in new window | Download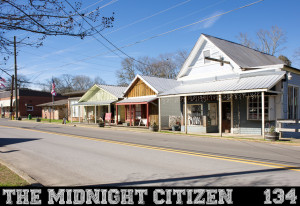 1:29:36 — Join Mike in the studio late at night. Topics include: getting out of town and re-charging batteries; the quaint town of Springville, AL, where there is nothing to do; the unsuccessful search for the quintessential small town diner; small town romanticism vs. reality; IBC Bottle confusion; Nielson sent me a dollar to fill out a survey about my TV habits; celebrity deaths — Wes Craven and Dean Jones; smoking a pipe outside; movie review — "A Walk in the Woods", and; much more…
Note: Apologies for the bad sound quality in the field segment of this episode. Not sure what happened there.
Music for this episode is from the New Midnight Cassette System by Frank Edward Nora (Creative Commons License 1.0 Universal). This work is licensed under a Creative Commons Attribution Non-commercial-Share Alike US License. Attribution by Mike Boody. Released September 2015 on The Midnight Citizen and The Overnightscape Underground.