Posted by:
Jimbo
in
Dec15
,
DocSleaze
, tags:
christmas
Podcast: Play in new window | Download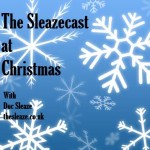 (43:35) Santa Claus gets killed! Bits from Duffy's Tavern and Fred Allen (with Monty Woolley) and commentary from Doc Sleaze!
(c) Sleaze Multimedia Productions – Creative Commons No Derivative Works.
Produced by Doc Sleaze.
License for this track: Creative Commons Attribution-NonCommercial-NoDerivs 3.0 Unported License (creativecommons.org/licenses/by-nc-nd/3.0/). Attribution: by Doc Sleaze – more info at TheOvernightscape.com