Posted by:
Dave
in
Dave
,
Nov19
,
reviews
, tags:
comedy
,
History
,
OTR
,
pop culture
,
radio
Podcast: Play in new window | Download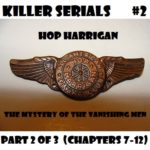 1:47:19 – Join Hop, Tank, Gail Nolan, Bill King and Dave in Kentucky for the "Middle Six" chapters of the Hop Harrigan adventure "The Mystery of the Vanishing Men." Dave has solved the "Mystery of the Missing Millions," but is still left wondering why this aviation serial has such trouble getting off the ground!  There's plenty of interesting propaganda assuring us that "America Needs Flyers," though, so "Don't Forget to Listen!"
This show is licensed under a Creative Commons Attribution-NonCommercial-NoDerivs 3.0 Unported License. Attribution: by Dave in Kentucky – more info at onsug.com.
Show art: Earn your wings by listening to Hop Harrigan!