Podcast: Play in new window | Download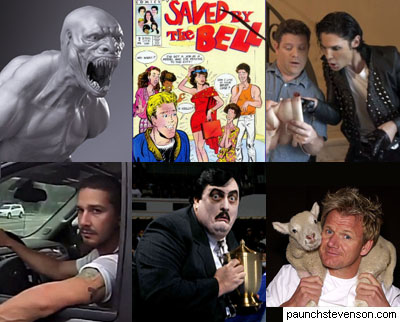 1:04:33 – In this episode:
In this episode:
Laundry list of sequels and remakes coming in 2015,
ridiculous 2005 Jurassic Park IV concept featuring human-dinosaur hybrids,
wishing Julianne Moore had been eaten by dinosaurs,
Douglas Engelbart, inventor of the computer mouse,
She's All That (1999) was actually written by M. Night Shyamalan,
whatever happened to Rachael Leigh Cook?,
our review of Quentin Tarantino's Django Unchained (2013), starring Jamie Foxx,
new digital comics of popular 80′s/90′s TV shows (Saved by the Bell, Airwolf, Knight Rider, Punky Brewster, Miami Vice),
Ascension Millennium, a terrible new song/music video from Corey Feldman,
Leah Remini vs. Kirstie Alley over Scientology,
upcoming Rocky spin-off Creed (2015), co-starring Sylvester Stallone,
Gordon Ramsay's Kitchen Nightmares,
the crazy Amy's Baking Company episode,
difference between bollocks and bullocks,
whatever happened to Paris Hilton?,
Shia LaBeouf staring at motorcyclist at red light (video),
Rob's gross foot injury,
Celebrity Wife Swap with Ric Flair and Rowdy Roddy Piper,
Jamestown settlers ate people's brains in the 1600′s,
celebrity death (wrestling's Paul Bearer),
"Please don't break my Atari" music video by Lo-Fi legend Weird Paul Petroskey,
Rob crying when his Atari 2600 got thrown out,
then dressing up as Pete Rose in 6th grade,
and Greg's 6th grade home made Read Along Classic of "War of the Worlds" featuring the "Rooster Delight" commercial.
License: Creative Commons Attribution-NonCommercial-NoDerivs 3.0 Unported License (creativecommons.org/licenses/by-nc-nd/3.0/). Attribution: by Rob and Greg – more info at paunchstevenson.com
Released August 2013 on The Overnightscape Underground (onsug.com), an Internet talk radio channel focusing on a freeform monologue style, with diverse and fascinating hosts.