Podcast: Play in new window | Download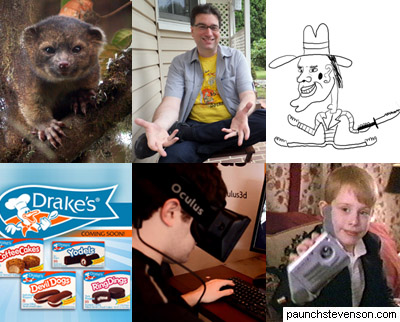 2:36:41 – In this episode:
newest mammal is the Olinguito,
podfading,
the Talkboy voice recorder from Home Alone 2,
cassette-based telephone answering machines,
our useless first computer systems,
early world wide web and email stunk,
Napster, mp3.com, and the Schwarzenegger prank calls,
Fuzzy Daupner, Guitari, and Cowboy Cruegar,
overbearing elementary school principal and her prison-like rules,
demolition soccer and the fake stock market brawl,
freezing a car's windshield and doors as a prank,
PAPA TV pinball tournament Kickstarter,
crazy podcaster parties from years ago,
future of podcasting is the Google Glass?,
Oculus Rift conspiracy?,
return of Fruit Brute and Yummy Mummy cereals (news),
corporate raiders and Hostess Twinkies,
Drake's Cakes, Entenmann's, Krispy Kreme,
doughnuts made with human hair,
the bread company chain cafes (Panera, Corner, Atlanta Bread),
parking problems,
Romance Emporium in Clifton, NJ,
Bankrupt by Beanies review,
the Atari landfill, E.T., and Pac-Man debates,
the magic of early video games,
collecting hobbies and the craziness involved,
celebrity deaths (Karen Black, Eileen Brennan),
review of Clear History (2013) with Larry David and Kate Hudson,
Woody Allen,
how come musical geniuses are so dumb?,
was classic rock killed off by technology, bean counters, aliens, or Moby?,
Later… with Jools Holland on Palladia HD,
how we discover good new music now,
Frank's music for night driving in VR,
and Cowboy Krueger songs by Guitari.
License: Creative Commons Attribution-NonCommercial-NoDerivs 3.0 Unported License (creativecommons.org/licenses/by-nc-nd/3.0/). Attribution: by Rob and Greg – more info at paunchstevenson.com
Released September 2013 on The Overnightscape Underground (onsug.com), an Internet talk radio channel focusing on a freeform monologue style, with diverse and fascinating hosts.