Podcast: Play in new window | Download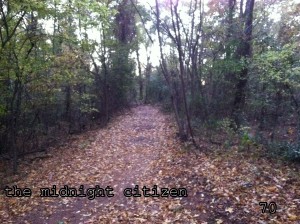 1:31:40 — There's plenty to ramble about after a week's break, including: hanging out at work on a cold, windy day after everyone's left the office; a brief history of Red Mountain Park; fast-forward to a couple days later where I'm hanging out at Brookwood Mall; various mall jobs I've had; Blockbuster Video going out of business; working at Suncoast Video vs. Blockbuster; "Dear Mr. Watterson" documentary about "Calvin and Hobbes"; taking a new route homre from Brookwood to Lakeview; via Mountain Brook Village and the Jemison Trail; some Birmingham history; southern hospitality; Harper Lee's lawsuit against "To Kill a Mockingbird" gift shop in Monroeville, AL; moving on from the Civil Rights movement in Birmingham; and a lot more!
This work is licensed under a Creative Commons Attribution-Noncommercial-NoDerivs 3.0 United States License. Attribution by Mike Boody. Released November 2013, on The Overnightscape Underground (onsug.com) and The Midnight Citizen (themidnightcitizen.com).