Podcast: Play in new window | Download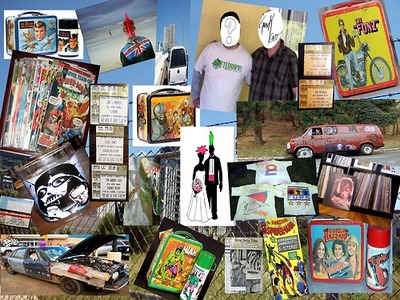 45:11 – Byron talks all things old school, takes the show on the road, & meets up with a couple surprise guests in "Vintage Lunchbox Roadshow Meetup!"
"Vintage Lunchbox-Roadshow-Meetup"
What happens when Byron starts off this episode wandering around a Chicago neighborhood on his lunch break from work rambling about items of nostalgic value from his past, but then changes gears & takes the show on the road South (& meeting up with a surprise couple of guests along the way)?
Some extra hints about this episode may be found in a few alternate titles Byron originally had: Escape From Goose Island, Are We There Yet?, Byron Can't Drive 70, The Tampler, When (Podcast) Worlds Collide, Punk Rock Beach Wedding Invasion, Random Canadians & Internet People Are Cool!
So join Byron, along with his family & band, on this rollicking adventure which treks from the streets of Chicago to the deep South and back (& featuring some great soundtrack music which includesCurmudgeon, The Gunk U.K. & Byron's surprise guest as well)! What more could possibly be packed in one episode outing?
Also, please share the love and listen to some of our favorite podcasts at: Static Radio, Special Delivery, Onsug, Insignificast, For Whatever Reason, & Letter Seventeen!
http://trashcanrock.staticradio.com/media/gunkcast_23.0_May2013.mp3
Released April 2014 on The Overnightscape Underground (onsug.com), an Internet talk radio channel focusing on a freeform monologue style, with diverse and fascinating hosts.