Podcast: Play in new window | Download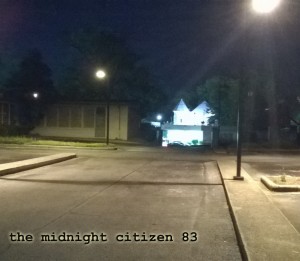 1:48:25 — Join Mike in the studio, and on the streets of Birmingham, AL. Topics include fortune(less) cookies; Anna the dog's vet records just came in the mail; "donut time" in the field with thoughts about meeting people and making friends as an adult; people you're suddenly exposed to with dog ownership; Ennio Morricone; annoying commercials, Taco Bell, Macaulay Culkin's joke band "The Pizza Underground" is awful; in the field on a Friday night with a cigar (Arturo Fuente Gran Reserva); beer, and watering plants with it; "Wet Hot American Summer" (1999) may come back as a TV show; "The Sopranos"; Dog TV; "Black Eye Children" and the entertainment value of conspiracy theories, and; much more!
Music for this episode by Mister Electric Demon and the Bayou Trio, with additional music from the short film "Drive-In-Movie" (artist unknown, standard YouTube license).
This work is licensed under a Creative Commons Attribution-Noncommercial-No Derivs 3.0 United States License. Attribution by Mike Boody. Released May 2014, on The Overnightscape Underground (onsug.com) and The Midnight Citizen (themidnightcitizen.com).