Podcast: Play in new window | Download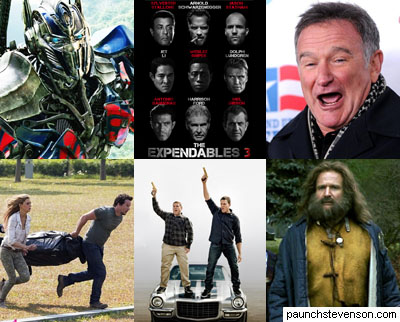 1:07:14 -Â In this episode:
our review of Transformers Age of Extinction (2014) starring Marky Mark,
John Goodman, Kelsey Grammer, Stanley Tucci,
Richard Riehle and "Jump to Conclusions" game from Office Space,
Transformium,
even more angry and murderous Optimus Prime,
instant, confusing scene transitions,
Frank Welker as Galvatron, briefly,
massive plot holes and characters changing allegiances back and forth,
overt product placement,
what was the purpose of the Dinobots?,
lazy, coughing Transformers,
the Casey Kasem tapes,
celebrity death (Robin Williams, Elaine Stritch, Lauren Bacall),
Expendables 3 (2014) review,
goofy one-liners, bad effects,
22 Jump Street (2014) review,
and Robin Williams films:Â Awakenings, Good Morning Vietnam, and Batman?
License: Creative Commons Attribution-NonCommercial-NoDerivs 3.0 Unported License (creativecommons.org/licenses/by-nc-nd/3.0/). Attribution: by Rob and Greg – more info at paunchstevenson.com
Released September 2014 on The Overnightscape Underground (onsug.com), an Internet talk radio channel focusing on a freeform monologue style, with diverse and fascinating hosts.