Podcast: Play in new window | Download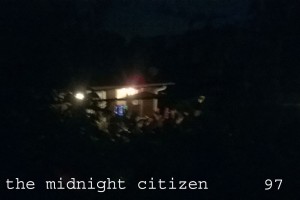 1:31:15 — Join Mike on a Saturday night in Birmingham, AL. Topics include: free coffee from McDonald's; closet disaster; Crimson Tide (1995); free stuff and senior discounts; working alone vs. working with people; service industry jobs; faking happiness; sitting outside and having a Coffee Oatmeal Stout from the Good People Brewery; someone I know was on that show "Castle" I was ridiculing last week; formula detective shows; "Sleepy Hollow" on Fox; movie review — "Guardians of the Galaxy"; writing screenplays vs. novels; afraid I'm wasting my time writing; work update, and; much more!
This work is licensed under a Creative Commons Attribution-Noncommercial-Share Alike United States License. Attribution by Mike Boody. Released September 2014, on The Overnightscape Underground and The Midnight Citizen.