Podcast: Play in new window | Download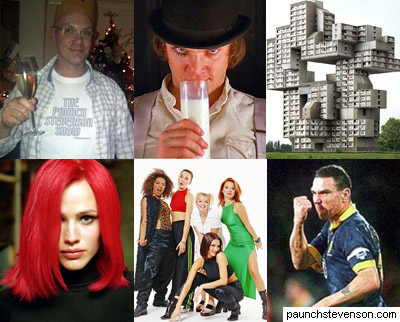 1:36:03 – In this episode we finally welcome long-time listener Space Man David!:
impressions and local psychos,
Death Wish rip-off Harry Brown (2009) starring Michael Caine,
Spaceman David's listening back story,
tips on visiting jolly old England,
Clockwork Orange (1971), my brothers,
new brutalist architecture,
Star Wars VII thoughts,
Alias, starring Jennifer Garner,
the female Ghostbusters movie,
extremely long films (Transformers, Hobbit, Dune),
The Clash, Depeche Mode, The Jam,
hipsters,
to collect or not to collect?,
clutter,
bumpers and Paunch t-shirts,
Pee-Wee's Playhouse in the UK,
upcoming comic book "Hierarchy" by David and his mates Paul and Nathan Kilburn,
Paunch episode 0,
bad British accents,
Popular/hated Brits to Americans,
Spice Girls,
downloading jpeg images in 1997,
trying to understand the speech of Cheryl Cole and Vinnie Jones,
and House of Nine (2004), starring Kelly Brook.
License: Creative Commons Attribution-NonCommercial-NoDerivs 3.0 Unported License (creativecommons.org/licenses/by-nc-nd/3.0/). Attribution: by Rob and Greg – more info at paunchstevenson.com
Released March 2015 on The Overnightscape Underground (onsug.com), an Internet talk radio channel focusing on a freeform monologue style, with diverse and fascinating hosts.