Podcast: Play in new window | Download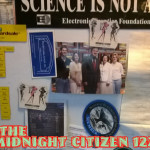 2:30:54 —Â After a long hiatus, Mike returns to the studio late on a Saturday night. Topics include: falling victim to the "Quantum Leap" curse; the Stephen King mania of the late 80s; reading "trash" genre books from the 2nd and Charles free bin — "Funland" by Richard Laymon and "Jericho Falls" by Christopher Hyde"; field audio from a mall in Savannah, GA; the Cracker Barrel; my old roommate Hunter is moving of the house I once lived in; reading an old issue of "Birmingham" magazine from 2004 with my friends in it; ONSUG Guide review; field audio from a cemetery this week; "true" experiences; Netflix reviews — "Shiek" (2014); "Beyond Clueless" (2014); "The Morton Downey Jr. Movie" (2013), and; much more!
You can buy the Onsug Guide at Amazon for 8 bucks here!
Music for this episode is "The Midnight Cassette System" by Frank Edward Nora
This work is licensed under a Creative Commons Attribution-Noncommercial-Share Alike United States License. Attribution by Mike Boody. Released April 2015, on The Overnightscape Underground (onsug.com) and The Midnight Citizen.