Podcast: Play in new window | Download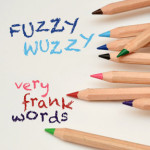 (33:18) Way back in 2003 the late 1990's and early 2000's, internet podcast pioneer Frank Edward Nora wrote a bunch of lyrics for a New Jersey "Folk Space Rock" band called 'Fuzzy Daupner' [history] [songs/lyrics]. Most of the lyrics Frank wrote were turned into music by the band and performed at many locales.
In the Spring of 2015, Jimbo ran across these songs for the first time while doing the show, The Frank Nora Time Machine – Hosted by Jimbo. Long story short, Jimbo asked Frank if he could take a shot at writing his own music for some/parts of those same lyrics – but not in the conventional way – more like – the 'Jimbo way'.
Jimbo shuffled his feet and never did do much of anything with the lyrics – until about two weeks ago. And what you have here is the creation of the two. The lyrics are very Frank-like and the music is… well… Jimbo-like. Frank liked what he heard and Jimbo was also pleased and so the project has been released for all to hear.
Jimbo chose the name 'Fuzzy Wuzzy' for this project (in an obvious homage to Fuzzy Daupner).
All words by Frank Edward Nora. All music by Jimbo. The wonderful artwork is by Clara Tse (many thanks!) and a lot of PQ Ribber influence from his 'Shocking Baby Secrets'. What we have here is an Overnightscape Underground musical eruption.
If you wish, you can download the this entire project (iTunes-ready) here.
THE SONGS:
01 Stimulating Rio .. 02 Jar of Air from Dreamland .. 03 Boring Books Other People Read .. 04 I Had an Open Mind .. 05 Rows and Columns .. 06 Was Dana Plato a Loser? .. 07 Always Forget to Water My Plants .. 08 I Have Agreed .. 09 Inelegant Remains of Ice Cream Cake .. 10 Afraid of the Real Real Thing .. 11 Field of Silly Flowers .. 12 Sketching Dragons with Crayons .. 13 Dirty Fingers .. 14 Sign of the Malls .. 15 Sad Old Trees .. 16 Out of Phase .. 17 Love is All Around Me (Circle) .. 18 Is Anything Ever Gonna Be Easier? .. 19 Trapped .. 20 I'm A Pretty Cool Guy .. 21 Gun Metal Grey .. 22 You Could Be Mine .. 23 That's All I Got .. 24 Let Me Shut Off
---
* The Crazy World of Vic and Sade
* All Jimbo's Onsug music and more: Soundcloud page
License for this track: Creative Commons Attribution-NonCommercial-NoDerivs 3.0 Unported License (creativecommons.org/licenses/by-nc-nd/3.0/). Attribution: by Frank Edward Nora and Jimbo – more info at TheOvernightscape.com