Podcast: Play in new window | Download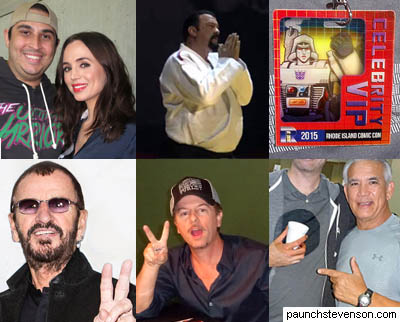 1:18:27Â -Â In this episode:
celebrity deaths (Yogi Berra, Fred Dalton Thompson),
Steven Seagal posting click bait videos on Warrior Zen website,
the Steve Jobs (2015) movie flops,
Back to the Future Day,
meeting director of BTTF and Polar Express, Robert Zemeckis,
Supernatural NJ Con experience,
New York Comic Con 2015 coverage,
meeting the cast of The Walking Dead,
the Eliza Dushku/Lanza photo struggle,
Greg missing out on meeting Clint Eastwood, Sarah Michelle Gellar, and Josh Holloway due to a cold,
Chiller Theatre Fall 2015 coverage,
meeting the Lost in Space cast,
meeting M.C. Gainey from LOST,
legendary actor Paul Sorvino, star of That's Life,
Linda Henning, who played Quinn's mom on Sliders,
Matt Dillon freaking out,
C. Thomas Howell of The Outsiders,
Veronica Cartwright, star of Alien, Flight of the Navigator, and The Right Stuff,
catching up with Ian Ziering,
a crazy free Alice Cooper signing,
the great Bob Newhart,
a preposterous ransom to meet Ringo Starr,
Rhode Island Comic Con 2015 and meeting Transformers voice acting gods Peter Cullen and Frank Welker,
also meeting Michael Keaton, Keanu Reeves, and Wendi McLendon-Covey,
Ricky Steamboat and the infamous Randy Savage cup of coffee promo,
video of vignette when Steamboat "lost his voice"
and David Spade joking about the Sandler CDs and PCU.
License: Creative Commons Attribution-NonCommercial-NoDerivs 3.0 Unported License (creativecommons.org/licenses/by-nc-nd/3.0/). Attribution: by Rob and Greg – more info at paunchstevenson.com
Released January 2016 on The Overnightscape Underground (onsug.com), an Internet talk radio channel focusing on a freeform monologue style, with diverse and fascinating hosts.