Podcast: Play in new window | Download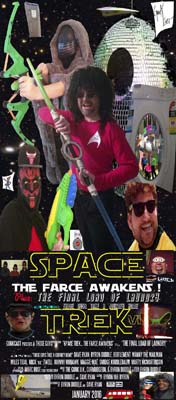 1:08:55 - "The Farce is strong in the Gunkcast family. Byron has it. Smidge has it. Hell, just about all of the Space Trek cast have it! You have that power too…!" Oh sorry, wrong show (you ask)? But of course this is the right show! And with those immortal words our special guest intro announcer (courtesy of Bad Reboot Productions) kicks off our biggest episode to date! But let's leave the rest of that bit for your actual listening pleasure & carry on with what we planned here. So… A long time ago at a high school not too far away, Byron & a couple of his friends dreamt up an insane comedy cable access show called Those Guys. This spawned a skit called Space Trek, which has been revived for an exclusive audio mini-series of episodes here on Gunkcast. So please join Byron & his full ensemble cast of talent now for the BIG wrap up. That's right… the grand finale which has been so hyped & promised for so very long that many thought it simply was never going to happen. Yes, this finale has gotten so BIG that we decided we needed to bring it all to a close in the BIGGEST way we know how… obviously by making it three shows in one! (Wait…what)?
But we're not going to spoil this for you. You'll just have to dive right in with us as the fuse(box) is lit to an explosive intro where we flashback through The Farce to the untold tale of how this whole adventure began! Yes, find out just how one final load of laundry set the chain of events in motion which led to our entire epic six part saga! Then join Byron & his co-host Dave Ryan in the studio as they talk all things Trek & set up the final part of our journey which reaches it's action packed conclusion here. And just when you think this can't get any better, we also hint that there may be an after-show party which features a few more surprises (as well as another kicking tune from one of our main house bands.. Curmudgeon)!
As we close out our Captain's Log, we would like to humbly thank everyone who contributed to our shenanigans over the last several years of making this audio journey for Gunkcast (yes, you are all given ceremonious credit in this one)! The little skit we started as part of our cable access show back in high school has now reached the grand conclusion it deserves & we are ready for a final beam up! Cheers….!
Also, please share the love and listen to some of our favorite podcasts at—-Static Radio, Onsug, Special Delivery, Fusebox, & Insignificast!
License for this track: Creative Commons Attribution-NonCommercial-NoDerivs 3.0 Unported License (creativecommons.org/licenses/by-nc-nd/3.0/). Attribution: by Byron Duddle – more info at onsug.com or gunkcast.tumblr.com
Released February 2016 on The Overnightscape Underground (onsug.com), an Internet talk radio channel focusing on a free form monologue style, with diverse and fascinating hosts.