Podcast: Play in new window | Download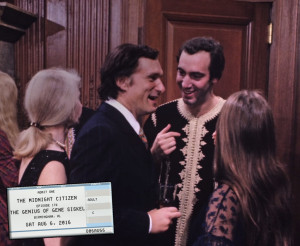 1:19:32 – Join Mike in the studio late at night, recalling that time he got stuck behind the curtain at a Rock-afire Explosion show, how he got banned from Facebook recently, and explaining why Tim Burton owes the late film critic Gene Siskel money.
Download on iTunes and Podbean.
Detailed show notes: Rock-afire Explosion; getting banned from Facebook and the drama of appealing to their customer service algorithms; Gilmore Girls; the movie "Keanu" (2015) starring Key and Peele; "Big Lebowski" actor David Huddleston has died at 85; how Gene Siskel came up with the idea for "Nightmare Before Christmas"; Steve Jobs; H. Ross Perot; the future of The Midnight Citizen, strategy?.
Check out the live (on tape) stream of tonight's show!
Keep the night going — check out the Midnight Citizen Mall…
Music for tonight's episode if from The Midnight Cassette System by Frank Nora.
This work is licensed under a Creative Commons Attribution Non-commercial Share-Alike US License. Attribution by Mike Boody. Released August 2016 on The Midnight Citizen and The Overnightscape Underground.