Podcast: Play in new window | Download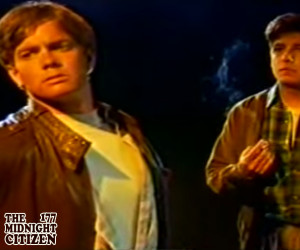 1:20:26 — Join Mike in the studio late at night as he remembers Crazy-C, the wannabe rapper from his college acting class who brought a class production of Mamet's "American Buffalo" to a show-stopping conclusion. Later, he talks about how to claim your manliness through bartering. Also, the Heaven's Gate cult.
Download on iTunes and Podbean.
Subscribe to The Midnight Citizen and get an exclusive short film!
Detailed show notes: People I used to know and how they still exist in my mind the way they were rather than the way they are now; "The Matrix" (1999) was my first DVD and I still own it; The Overnightscape Central; the story of Crazy-C, my college acting class partner; David Mamet; selling my car and learning how to barter; web sites I used to know — "Hamster Dance", "The Blair Witch Project"; "Heaven's Gate" web site from 1997 is still up and running; Hale Bopp comet; vlogs and blogs; Century Plaza, my first mall and dead since 2009, may be bought by a local megachurch; the National Parks Service turns 100.
Check out the Midnight Citizen vlog and the LIVE (on tape) stream of this show…
The Gizmodo article about those brave cult members who stayed behind to manage the Heaven's Gate web site.
Music for tonight's episode: "Something" by Kai Engel; "Call for Surrender", "Dance Rocket", "Descent of the Goober Monster" by Jesse Spillane; "City in Ruins" by Mescares; "These Fair Hands", "True Hearts" by Nick Jaina. All music is Creative Commons License: Attribution, Share-Alike.
This work is licensed under a Creative Commons Attribution Non-commercial Share-Alike US License. Attribution by Mike Boody. Released August 2016 on The Midnight Citizen and The Overnightscape Underground.