Podcast: Play in new window | Download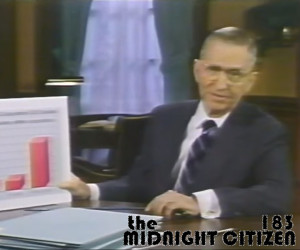 1:08:11 –Â Join Mike outside on a Friday night, where he explores old TV movies about H. Ross Perot and Iranian hostages, and laments the possibility that we're all living in a Matrix reality.
Download on iTunes and Podbean.
Subscribe to The Midnight Citizen and get an exclusive short film…
Detailed show notes: "On Wings of Eagles" (1986 TV movie), starring Richard Crenna as Ross Perot; the 1979 Iranian Revolution; "Argo" (2012); Ross Perot; grilling on the back porch on a Friday night; "Hail Caesar" (2016); weird political seasons (2016, 2000, 1992); the Ross Perot infomercials from '92 were filmed in the same studio as Joe Bob Briggs's "Drive-In Theater" in Dallas, Texas; late night horror hosts;Â reading Joe Bob's response to an e-mail I sent him about Ross Perot; congrats to Alex for being a new, first-time dad; shout out to Miss S's 12th grade History class at the local high school for listening to my show; Elon Musk is funding research to investigate if we are living in the Matrix; alternate worlds; "Mayberry RFD" and depressing sitcom spin-offs; "The Ropers"; advice to Norman Fell and all other actors of successful sitcoms past NOT to do spin-offs; and more!
Music for tonight's episode:  "These Fair Hands", "True Hearts" by Nick Jaina. All music is Creative Commons License: Attribution, Share-Alike.
This work is licensed under a Creative Commons Attribution Non-commercial Share-Alike US License. Attribution by Mike Boody. Released October 2016 on The Midnight Citizen and The Overnightscape Underground.