Podcast: Play in new window | Download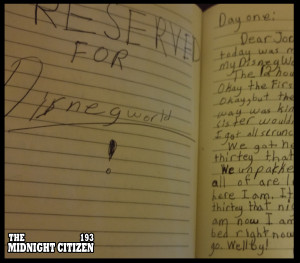 1:10:18 –Â Join Mike in Orlando, Florida, reflecting on his adventures at Universal Studios and Disney theme parks. Later, Mike reads a log of his last trip to Disney World in summer 1994.
Download on iTunes and Podbean.
Subscribe to The Midnight Citizen and get an exclusive short film…
Detailed show notes: grabbing a cup of coffee from the Dunkin' Donuts near my motel; recuperating from three long days at theme parks; "What Women Want" starring Mel Gibson; holiday discounts; "Jurassic Park" river adventure; still wet from Bluto-themed water ride at Universal; Blues Brothers at Universal; recording the sounds of the Parks; Magic Kingdom; Disney fast passes; the infrastructure of being a tourist; gaudy theme attractions on International Drive; reflecting on Disney World's history; odd occurrences: had a wreck on the way to Orlando, and was almost denied entry to Universal because of a questionable t-shirt; found a Thomas Pynchon book in the motel library; making Christmas plans; A COUPLE DAYS LATER: Having a cup of coffee before I leave Orlando; tired after spending 12 hours at the Magic Kingdom the day before; annoying time share people at Universal; disgusting people; ready to go home; stressed out at Mickey's Christmas Party; "Be Our Guest" restaurant at The Magic Kingdom; lethargic Disney cast members; exploring hidden jokes at the Parks; Disney Magic; reading my journal from the last time I visited Disney World in 1994; nearly lost my Zoom recorder on Space Mountain; Carousel of Progress starring Jean Shepherd.
Music for tonight's episode: "Dance Rocket" and "Descent of the Goober Monster" by Jesse Spillane (CC — Non-commercial, Share Alike).
This work is licensed under a Creative Commons Attribution Non-commercial Share-Alike US License. Attribution by Mike Boody. Released December 2016 on The Midnight Citizen and The Overnightscape Underground.