Podcast: Play in new window | Download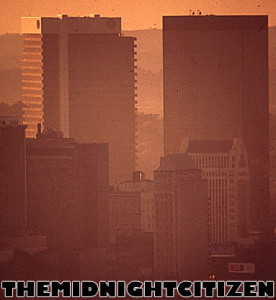 1:33:24 –Â Join Mike in the studio late at night as he recounts his team's EMBARRASSING loss at this week's 48-hour film-making competition. Also: remembering my teacher mom's students in the late 80's who used to hang around my house and play Nintendo.
Note: I say that Bill Paxton was in "Independence Day". Obvious mistake. I meant "Apollo 13".
Download on iTunes and Podbean.
Subscribe to The Midnight Citizen and get an exclusive short film…
Show Notes: mating habits of famous historical figures on television in shows like "Einstein", "John Adams"; a humiliating defeat at the Sidewalk Scramble film-making competition; Music Break 1*; watching "Mutant Species" (1995) on silent; obsessed with DNA in the 90's; the Preview channel;Â 1972 EPA photos of Birmingham, AL make the city looked damned apocalyptic; Pepsi; Birmingham is a new city with a kind of "natural weird", like in "Portlandia";Â Wilford Brimley; Powers Booth; 70's actors who slummed it in 90's B-movies; a trip to the Video Street Video Store**; my mom's students in the late 80's who always used to hang around our house and play Nintendo; the Oscars; Music Break 2*; random access memory: that time my dad rented me "The Breakfast Club" when I was 14 and he felt embarrassed by its "R" rating; remembering Bill Paxton.
*Music Breaks: "Curha" by Sir Fish; "Ghost Wave" by Electric Mirrors; "I Believe in Your Beauty" by the Agrarians.
**Video Street Video Store: "Mall Cruising in Bowling Green, KY," 1990.
Backing music for tonight's episode is the Midnight Cassette System (CCO 1.0 Universal, attribution, non-commercial, share-alike).
This work is licensed under a Creative Commons Attribution Non-commercial Share-Alike US License. Attribution by Mike Boody. Released March 2017 on The Midnight Citizen and The Overnightscape Underground.