Podcast: Play in new window | Download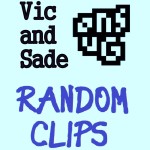 (20:33) The other day, in the tremendous (if I may say so) ONS Central podcast I mentioned that you could probably take 2 minute clips of random "Vic and Sade" episodes and find 'genius'. I'm not sure if I said those words exactly, but I pretty much said that.
So I sat down and picked 10 random episodes of "Vic and Sade". It just so happens that 8 of 10 of these are from 1939 and 1940. But again, it was random. Then I chose 2 minute segments out of each.
Five of the episodes I chose the time segment 2 minutes to 4 minutes. The remaining episodes, I chose clips from the 3 minute to 5 minute mark.
Can 'genius' be found?
CLIP 1: 40-01-09 Boys Copy Numbers Sade Tells Gossip // CLIP 2: 44-06-16 Piercing Blue Eyes // CLIP 3: 41-04-04 Dinner Invitation Withdrawn // CLIP 4: 39-11-21 Smelly Clark Solicits Gifts // CLIP 5: 39-01-02 Lodge Regalia Out On Loan // CLIP 6: 1939 Letter to Walter // CLIP 7: 40-05-03 Engine Cab Ride to Chicago // CLIP 8: 39-04-03 Rush Draws List of Acquaintances // CLIP 9: 39-09-xx Mr Gumpox Offers Sade A Stall // CLIP 10: 40-07-13 Short Bio of Little Dipper
This work is licensed under a Creative Commons Attribution-NonCommercial-NoDerivs 3.0 United States License.

"Vic and Sade" was created and written by Paul Rhymer. For all your "Vic and Sade" needs, visit Jimbo's The Crazy World of Vic and Sade series of websites.