Podcast: Play in new window | Download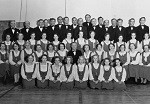 (20:58) Hank needs to dress up first class for his new choir job. He turns to Vic – but will Sade approve? Guest Dave Duckert shares all the details and his opinions with us.
Examine this episode more closely: 40-xx-xx Hank's $200 Wardrobe
"Vic and Sade" was written by Paul Rhymer.
This work is licensed under a Creative Commons Attribution-NonCommercial-NoDerivs 3.0 United States License.