Podcast: Play in new window | Download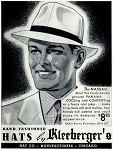 (14:57) Super-fan "Dave from Wisconsin" (Dave Duckert) expertly shares one of his favorite episodes.
If you are interested in Vic's hat dilemma, you may want to view the known list of Vic's hat-related encounters.
Examine this episode more closely: 41-03-04 Vic Wins Broad Brimmed Hat
"Vic and Sade" was written by Paul Rhymer.
As always, a big THANK YOU to Internet audio pioneer Frank Edward Nora and ONSUG for hosting the VIC AND SADECAST.
This work is licensed under a Creative Commons Attribution-NonCommercial-NoDerivs 3.0 United States License.