Podcast: Play in new window | Download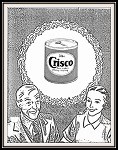 (20:14) It's another "special" Crisco episode. Some of you love your Crisco, so I will give you some Crisco every few days.
Meanwhile, Vic has a bonafide mystery on his hands and that means we do as well. And it's a mystery that remains today! What are your thoughts about this? We want to know. Leave your comments.
Examine this episode more closely: 41-05-30 Five Men from Maine
"Vic and Sade" was written by Paul Rhymer.
A big THANK YOU to Internet audio pioneer Frank Edward Nora and ONSUG for hosting the VIC AND SADECAST.
This work is licensed under a Creative Commons Attribution-NonCommercial-NoDerivs 3.0 United States License.