Podcast: Play in new window | Download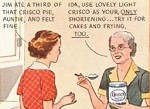 (17:19) Rush's cousin Euncie outsmarts Sade (a difficult thing to do) and puts an end to the continual letter-writing. Meanwhile, the folks at Crisco are cooking up a "spicy pineapple pie". It's digestible.
Examine this episode more closely: 41-06-09 Letter Writing Plot
"Vic and Sade" was written by Paul Rhymer.
A big THANK YOU to Internet audio pioneer Frank Edward Nora and ONSUG for hosting the VIC AND SADECAST.
This work is licensed under a Creative Commons Attribution-NonCommercial-NoDerivs 3.0 United States License.