Podcast: Play in new window | Download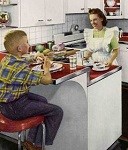 (21:02) The allure of ice cream and salted peanuts is great, but the pull is not stronger than Victor R. Gook.
Examine this episode more closely: 41-07-xx Fred's Concrete Partition
"Vic and Sade" was written by Paul Rhymer.
Thanks to Internet audio pioneer Frank Edward Nora and ONSUG for hosting the VIC AND SADECAST. I am thankful for him and the many others who help preserve VIC AND SADE for future generations.
This work is licensed under a Creative Commons Attribution-NonCommercial-NoDerivs 3.0 United States License.