Podcast: Play in new window | Download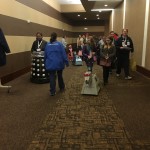 3:30:46 – My adventure at Chicago TARDIS 2017: overview of the usual Chicago TARDIS experience, arriving at the convention, people wearing costumes, the dealers' room, books and CDs that I bought, new medicine makes me jittery yet calm, Big Finish, misplaced my phone and then found it again, video room, Big Finish Podcast recording in front of audience, tracking down local Pizza Hut, three companions in upcoming Doctor Who series, driving back to the hotel, garlic knots, people in discussion panel talking fast, guy who forgot he sold me CDs earlier gave me the same sales pitch again, Zen feeling, standing room only at the Three Doctors On Stage panel, Peter Davison and Colin Baker debunk rumors of feud over female Doctor, service dogs, guy looking for bathroom, people-watching, I almost collided with Colin Baker, more costumes, leaving the convention, deciding not to bother getting directions from Siri, getting lost, gated community security guard, phone battery, back to the convention, charging my phone, nobody's worried about me, wrote some Doctor Who reviews a few years ago, ideas for features on the show. Recorded 11/25/17. RFS 154.
License for this track: Creative Commons Attribution-NonCommercial-NoDerivs 3.0 Unported License (creativecommons.org/licenses/by-nc-nd/3.0/). Attribution: by Shambles Constant, Falling Cow Productions – more info at onsug.com
Released November 2017 on The Overnightscape Underground (onsug.com), an Internet talk radio channel focusing on a freeform monologue style, with diverse and fascinating Time Lords.