Podcast: Play in new window | Download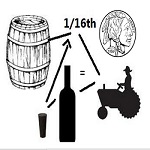 (19:47) What better way to get your Vic and Sade fix than by listening to a fan who loves the show more than anyone? Dave Duckert is here with his wisdom and wit and other entertaining garbage.
Examine this episode more closely: 41-10-09 It's Algebra, Uncle Fletcher
"Vic and Sade" was written by Paul Rhymer.
A big THANK YOU to Internet audio pioneer Frank Edward Nora for hosting the VIC AND SADECAST on ONSUG. He is one of many who generously help preserve VIC AND SADE for future generations.
This work is licensed under a Creative Commons Attribution-NonCommercial-NoDerivs 3.0 United States License.