Podcast: Play in new window | Download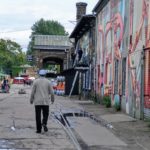 00:45:37Â Topics include: Returning to the audio. Reflecting on my slowdown and the hiatus since January 2017. Creativity burnout. Poisoned by pragmatism and doing things for money. Depression vs being lazy. Adjustment Disorder. Expecting a baby. Floating through streets of Kreuzberg. Bizarre sightings. Personal journaling here on the podcast. The monetisation of the content. Blind following the goals. Medical leave and losing my job. Suing my employer for unlawful termination. The experience of working with lawyers. Electric Longboard penalty for riding it in Germany. The nature of
A casual relationship with the employer. Reflecting on Berlin in Summer's bloom. Turkish area. My perception of Berlin in 2018 as my home. Review of Zoom H1N (replacement of Zoom H1). Everyday carry devices. iPad Pro as one of the most personal devices to own. Uncertain future of my Wacom Cintiq. My MacBook does not get old. Personal objects make us. Embracing introvertism. Eastern approach to the performance and output. Personal journaling is dead? Discovery of the new Ayurvedic restaurant that soon closes. No more burgers. Vegetarian food options while liking meat. Looking for a car buying option. Progress in the car development. What I need in a car. Speeding in Germany.
Creative Commons Attribution-Noncommercial-No Derivative Works 3.0 United States (http://creativecommons.org/licenses/by-nc-nd/3.0/us/). Attribution: by Brazen Gestures – more info at onsug.com