Podcast: Play in new window | Download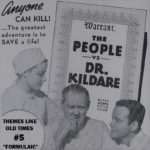 43:17 – Dr. Kildare & Red Ryder, Richard Chamberlain, Leonard Nimoy, William Shatner, Ben Casey, Marcus Welby, Frederick Schiller Faust, Max Brand, Friedrich Schiller, Goethe's Faust, Western Story Magazine, Destry Rides Again, Jean Shepherd, Red Ryder BB guns, Sky King & Penny, Songbird & other Cessnas, Red Ryder & Little Beaver, Reed Hadley & Tommy Cook, Robert Blake, Little Rascals, Baretta, In Cold Blood, Sir Arthur Conan Doyle, Dr. Joseph Bell, Sherlock Holmes, Dr. Leonard Gillespie, Lew Ayres, Argosy & Cosmopolitan, Helen Gurley Brown, Barbara Stanwyck, Joel McCrea, Lionel Barrymore, Laraine Day, Mary Lamont, Molly Byrd, Nosy Parker, Dr. Carew, Conover, Ironside, Raymond Massey, Capt. Kirk & Yeoman Rand, All Quiet on the Western Front, Van Johnson, Keye Luke, Charlie Chan, Kung Fu, Master Po, guest stars, Red Skelton, Donna Reed, It's a Wonderful Life, Mr. Potter, Ebenezer Scrooge, cameos by Laverne the cat & Sally the switchboard operator (Marie Blake AKA Blossom Rock).
Music and Musings from Dave in Kentucky.
License for this track: Creative Commons Attribution-NonCommercial-NoDerivs 3.0 Unported License (creativecommons.org/licenses/by-nc-nd/3.0/). Attribution: by Dave in Kentucky.
Released July 2018 on The Overnightscape Underground (onsug.com), an Internet talk radio channel featuring free-form monologues by clever hosts with diverse opinions.