Podcast: Play in new window | Download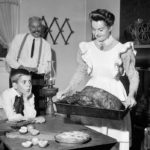 5:00:20 – Happy Thanksgiving!
A Charlie Brown Thanksgiving – promo – 1977 (from YouTube)
Turkey in the Straw (Gene Austin, 1924)
Roger and Adam at the Thanksgiving Parade (1981) (from YouTube)
Thanksgiving Dinner 1996 at Mommy's (from YouTube)
Afternoon Dust Motes (Djinnestan, Attribution ND 3.0 United States)
==Shambles== Thanksgiving OTR
Jack Benny: Jack Cooked The Turkey (11/28/37)
WPIX NY-1983 Thanksgiving Day Commercials (from YouTube)
Answer Man: Thanksgiving (11/23/44)
Portugueezers Jam (A Tiny Window, Attribution NC SA)
==Shambles== The play is over
The Eddie Cantor Pabst Blue Ribbon Show: Thanksgiving Program (11/27/47)
Gloomy Highways (Hyperstatic, Attribution NC SA)
eating at Da Vittorios (polytekton, Attribution SA 3.0)
Deep chording (Torley, Attribution SA 3.0 United States)
==Shambles== My Thanksgiving
WOR 9 Thanksgiving monsters (from YouTube)
How Ya Gonna Keep 'Em Down On The Farm (Nora Bayes, 1919)
Navajo Lady (Mar-Tie, Attribution NC)
Our Miss Brooks: Thanksgiving Weekend (11/27/49)
Turn It On (Flaming Lips Cover) (Blasting Trout Overbite, Attribution 3.0 United States)
The Shape of the Past to Come (Goodbye The Band, Attribution NC SA 4.0)
1986 Television Shows Thanksgiving Greetings (from YouTube)
101 KLOL Houston – Aircheck (1993) (from YouTube)
==Shambles== The last few RFS episodes of the year
The Couple Next Door: Live Turkey Delivered (11/27/58)
Jean Shepherd: Thanksgiving Turkey (11/24/68)
Recorded 11/17/18 through 11/22/18. RFS 196.
License for this track: Creative Commons Attribution-NonCommercial-NoDerivs 3.0 Unported License (creativecommons.org/licenses/by-nc-nd/3.0/). Attribution: by Shambles Constant, Falling Cow Productions – more info at onsug.com
Released November 2018 on The Overnightscape Underground (onsug.com), an Internet talk radio channel focusing on a freeform monologue style, with diverse and fascinating hosts.