Podcast: Play in new window | Download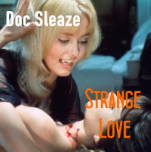 58:21 – This time around we celebrate love in its strangest forms. From Hammer Film's early seventies obsession with 'strange love' in the form of lesbian vampires, cross gender mad scientists and crazed killers with father issues, through woman-eating trees, marriage phobia and marrying oneself, to the redemptive power of disco. And remember – love is love, no matter how strange or weird it might be.
'Strange Love' by Tracey from Wembley (love theme from 'Lust for a Vampire') ¦ Hammer films and strange love -the rise of the lesbian vampire (including trailer from 'The Vampire Lovers' (1970)) ¦ Cross gender mad scientists (including 'Dr Jekyll and Sister Hyde' (1971) trailer) ¦ Father issues and mad killers (including 'Hands of the Ripper' (1971) trailer) ¦ Random Movie Trailer – 'Womaneater' (1958) ¦ 'Womaneater' excerpt ¦ Unhappily Ever After ¦ 'Strange Love' by Tracey from Wembley (version 2) ¦ Nuptials for the Single Man ¦ Forgotten Film: 'Nocturna' (1979)
License for this track: Creative Commons Attribution-NonCommercial-NoDerivs 3.0 Unported License (creativecommons.org/licenses/by-nc-nd/3.0/). Attribution: by Doc Sleaze – more info at TheOvernightscape.com
Released January 2020 on The Overnightscape Underground (onsug.com), an Internet talk radio channel focusing on a freeform monologue style, with diverse and clever hosts presenting unique programs, historic archival material, and nocturnal audio.