Podcast: Play in new window | Download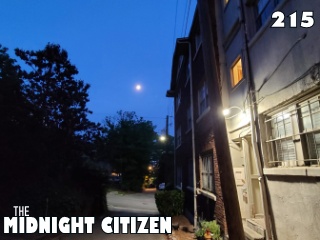 1:34:02 — Join Mike in the studio for the first time in three years.

Show Notes: Why I was once suspected of being a mad bomber at the Statue of Liberty; Life During Quarantine (teaching, reading, sleeping, attending events like funerals in alternate ways); somehow my job has brought me back to the Midnight Citizen studio; Music Break*; Reading a "You're Welcome" letter from President Trump; Supplementing income during Covid time with Doordash, Postmates — well, I got fired from Doordash, and I'll tell you the story; Jurassic Park book (1990); Video Street Video Store**; "Tales from Viscauga, AL": this week, Senior Mac Nix refuses to graduate in obscurity, and decides to pull off an epic prank for his school to remember him by.

*Music Break: "Last of the Frontiersmen" by Dark Meat; "Bad Prescription" by Physical Plant; "Machinery" by Eddy

**Video Street Video Store: 1990 Sam Goody "Wrap It Up" commercial; Ames Department Store Asset Protection Awareness training video; Penn and Teller MonsterVision segment.

Backing music for tonight's episode: Petti Music Studios (CCO 1.0 Universal, attribution, non-commercial, share-alike).
Check out The Midnight Citizen back-issues at Archive.org, and the Livestream of tonight's show.

This work is licensed under a Creative Commons Attribution Non-commercial Share-Alike US License. Attribution by Mike Boody. Released May 2020 on The Midnight Citizen and The Overnightscape Underground.