Podcast: Play in new window | Download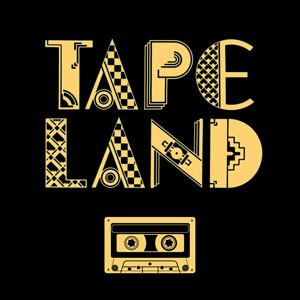 2:51:36 – Welcome to Tape Land! On each episode, I'll present the audio of a cassette tape or historic recording from my collection. It's a way to help motivate me to release more of my archives.
On this tape, Frank interviews his grandmother, Betty Nora, about family history, at her house in New Brunswick, NJ, on Saturday, March 9, 2002. Frank is 34 and Betty is 92 at the time of the recording. Frank called his grandparents Nanny and Nonno. The story goes, they were meant to be called Nonna and Nonno (Italian for grandmother and grandfather), but as a yound child, Frank pronounced Nonna as "Nanny" and it stuck in the family.
They talk about a wide range of subjects, especially Betty's memories of growing up in a coal mining town in western Pennsylvania. Also of note on the tape are the origins of Frank's visit to the town, later in 2002, to meet and talk to Betty's brother Ralph (that tape upcoming in Tape Land). Also, Frank talks about starting to listen to old Jean Shepherd tapes every day, which would lead, a year later, to the dawn of The Overnightscape.
Notes: Brothers and sisters. Bella the dog. Little country school called Dry Run. Newspapers. Nieces and nephews. The next generation. Clock chimes. Parents. Aunts and uncles. Bootlegger. Indoor bathroom. Italy. Avalanche. Marriages. Grandparents. Carriage maker. Weaver. Great-great-great grandfather. Time for the novel. House hit by lightning. Sharing. Sears Roebuck Catalog. Man in the Moon. Kids in the army. Laundry. Citizenship test. Teachers. Jobs. Pennsylvania. New Jersey. Ice cream. Civilian Conservation Corps. Plan for the "Ralph" tape. Kissinger. Union Carbide. Dinosaur eggs. Trained a crow. Early morning coal miners, parade of lights. The day Uncle Frank died in the coal mine in 1927. Giant rocks in the woods. Wells. Books for the kids. Hard workers. Telephone. Flies in the brandy. Taking Bella outside for a walk. Listening to Jean Shepherd every day for the past month or so. Bought her parents a washing machine and a radio. First record she heard. Routes to school. Fake ghost. Snow. Juniata College. Hiking club. May Queen. Teaching Latin. Lindbergh. The Great Depression. KDKA. The movies. Cartoon bee sting. Ice cream parlours. Sleeping fox. Teaberries. Rattlesnake. The Giant's Tree. Baptism. Nasty priest. Changing times. Religion. The Andrea Yates case in the news. The dark side of human nature. Uncle Gigi. Belluno. Balbi. Dogma. The first train in Longarone. Computers. Current events. NYC. WTC. 9/11. The Crazy Cottons. End of WWI.
Released 7/25/20
License for this track: Creative Commons Attribution-NonCommercial-NoDerivs 3.0 Unported License (creativecommons.org/licenses/by-nc-nd/3.0/). Attribution: by Frank Edward Nora – more info at onsug.com