Podcast: Play in new window | Download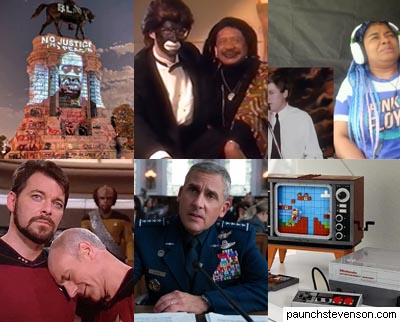 1:30:44Â – In this episode:
will the COVID-19 ever go away?,
we're not gonna protest!,
cancel culture,
Howard Stern/Ted Danson blackface controversy revisited,
Karen! That's all the money we had, KAREN!,
learned vs. folksy people,
old jingle of the episode (Bill Cosby's Sgt. Pepper's Lonely Hearts Club Band),
YouTube first time reaction videos to classic rock songs (link),
The Rolling Stones Goats Head Soup 2020 album,
Space Force starring Steve Carell,
Star Trek: The Next Generation bloopers in HD (link),
still don't like The Shining (1980),
review of Terminator Dark Fate (2019), starring Linda Hamilton,
celebrity deaths (Joel Schumacher, Denny O'Neil, Ennio Morricone, Kelly Preston),
updates on the Sham-Wow guy Vincent Offer and Billy Mitchell's video game record scores,
LEGO Nintendo Entertainment System set,
and Kanye West for President?
License: Creative Commons Attribution-NonCommercial-NoDerivs 3.0 Unported License (creativecommons.org/licenses/by-nc-nd/3.0/). Attribution: by Greg and Rob – more info at paunchstevenson.com