Podcast: Play in new window | Download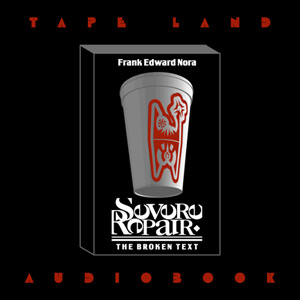 10:22:05 – Welcome to Tape Land! On each episode, I'll present the audio of a cassette tape or historic recording from my collection. It's a way to help motivate me to release more of my archives.
I'm finally doing a full audiobook reading of my "failed science fiction novel", Severe Repair. In this first part of four, I read the first three "Cuplines":
CUPLINE 1: GOODBYE POPCORN
CUPLINE 2: OFFICE COMPLEX
CUPLINE 3: PECULIAR LATHER
Back in the 1990s, with Severe Repair, my ambition was nothing less than to create an epic science fiction universe to rival the likes of Star Wars, Marvel Comics, and The Lord of the Rings. And if I had focused all my energy on the project, who knows what might have happened. But it was one of many creative projects I was trying to juggle. As it was, I spread myself too thin, and none of my 90s projects reached their full potential.
As the 90s turned to the 2000s, my capacity and desire to work on Severe Repair waned, and what I was left with was a huge, disorganized mass of writing, released at various times in various forms, some of which was quite good. So eventually, in 2008, I gathered it all together and released it as a complete work online called "Severe Repair: The Broken Text". It weighed in at around 1,000 pages.
I tried several times to read parts of it as an audiobook. I did a short-lived audio series in 2010 called "The Severe Repair Universe", where I read from the book, and annotated and discussed it as I went along – but it didn't last.
I have always meant to record a full audiobook of Severe Repair, and now, having a week off at the end of 2020, I decided to go for it. Doing some quick calculations, I realized the full book would take something like 36 hours to record, so I decided to split it into 4 parts. This is the first part.
Recorded over the course of four days, and coming in at 10 hours and 22 minutes long, it's me reading the book, without commentary. It's quite rough around the edges, but it gets the job done. I plan on doing the other three parts in 2021.
Find the text version of the full book here: severerepair.com
–Frank
Released 12/31/20.
License for this track: Creative Commons Attribution-NonCommercial-NoDerivs 3.0 Unported License (creativecommons.org/licenses/by-nc-nd/3.0/). Attribution: by Frank Edward Nora – more info at onsug.com